Medical Grade Skin Care Products
Recommended Optimal Skin Care Regimen
recommended medical grade products (available in office)
AM
Cleanse
Protect - antioxidants
Protect - sunscreen
Moisturize - to hydrate and seal
Alastin Ultra Calm Cleansing Cream or SkinBetter Cleansing Gel
TNS Advanced + Serum
SkinBetter Interfuse (Eye or Lines)
Macrene Actives High Performance Lip Filler
see tinted sunscreen menu
Alastin Ultra Nourishing Moisturizer or SkinBetter Trio Moisturizer
PM
Cleanse
Repair - peptides, growth factors
Moisturize - to hydrate and seal
Alastin Ultra Calm Cleansing Cream or SkinBetter Cleansing Gel
TNS Advanced + Serum
SkinBetter Interfuse (Eye or Lines)
Macrene Actives High Performance Lip Filler
Alastin Ultra Nourishing Moisturizer or SkinBetter Trio Moisturizer
Bonus Steps: further options to enhance results


SkinBetter Instant Effect Eye Gel - for more skin tightening

Latisse - for thicker, longer, darker eyelashes

Alastin

Ultra Calm Cleansing Cream

Mild, calming, creamy cleanser that gently cleanses without disrupting the skin's moisture balance yet thoroughly removes dirt, oil, and makeup. Promotes hydration to leave skin feeling soft and soothed. Fragrance free.

---

Alastin

Ultra Nourishing Moisturizer

With TriHex Technology to upregulate collagen and elastin. Nourishes and hydrates dry skin. Calms sensitive skin. Fragrance-free and oil-free.
Winner of Prevention Magazine 2021 for "Best Plumping Moisturizer" Award.

---

SkinBetter

Cleansing Gel

Mild foaming gel cleanser that gently and thoroughly cleanses the skin and removes makeup

---

SkinMedica

TNS Advanced+ Serum

This next-generation, skin rejuvenating formula improves the appearance of coarse wrinkles, fine lines, skin tone, and texture. It's the only growth factor product proven to address sagging skin. Visible results in just 2 weeks. Results continue to improve through 24 weeks of use. More treatment elements (anti-oxidants, peptides & growth factors than previous TNS serum and now fragrance-free)

---
Plump, moisturize, and fight against free radical damage while boosting lip thickness. Organic plant oils, hyaluronic acid and antioxidants heal and smooth chapped lips while simultaneously filling and plumping for boosted color and injection-free plushness.
Naturally Plumping | Healing | Moisturizing | Excellent Chapped Lips Relief
Visibly Hydrates for More Youthful Smooth Surface | Anti-Wrinkle

pre/post  
 Ideal to combine with Lip Flip
 (neuromodulator such as Botox or Newtox)
---
SkinBetter Interfuse Technology
Interfuse is a patented technology which allows large molecules to pass through the skin barrier, improving the appearance of crow's feet, wrinkles, puffiness and under-eye darkness.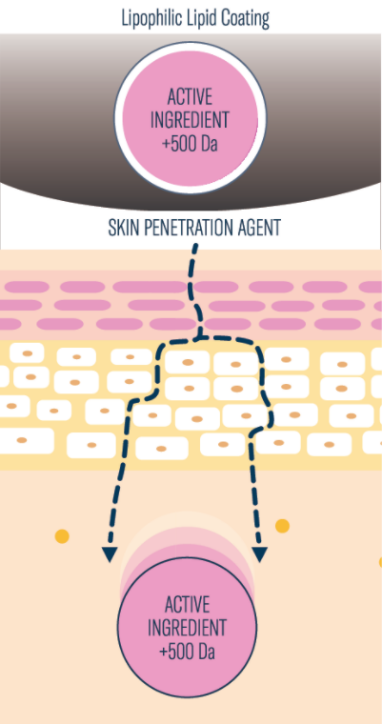 In the past, dermatology research into treatment creams was to look for the smallest molecules or nano-molecules that would provide the best benefits (i.e, glycolic acid). The larger the molecule is, the harder time it has passing the skin barrier effectively. An example of such large molecule is hyaluronic acid, especially the injection grade highly cross-linked hyaluronic acid. Therefore in most of the creams that contain hyaluronic acid as an ingredient, the hyaluronic acid actually remains on the surface of the skin and can not be absorbed deep inside. The same can be said about other medium and large sized active ingredients found in the creams. Interfuse line allows the large molecules to pass the skin barrier using following technology. The active ingredients found in the Interfuse products are very similar to other creams found in the market however the path of delivery makes them significantly more effective at providing desirable results.
---
SkinBetter
Instant Effect Eye Gel
Improves the appearance of puffiness, fine lines and wrinkles, and texture. This lightweight gel is rich in plant-based ingredients that target multiple under eye issues all at once
Instant results after one use, and lasting results after consistent use
Complements SkinBetter Interfuse Eye Treatment Cream
If still dry, follow with Trio Moisturizer
Strongly recommend final layer of sunscreen every morning

---
Trio Rebalancing Moisture Treatment
High-performance, triple-action formula that helps to bring moisture back to the skin and reinforce the compromised skin barrier to retain moisture as well as protect skin
---
Alastin
Nectar
Tri-Hex technology supports the production of new healthy elastin and collagen to improve the appearance of your skin's texture, firmness and crepiness (references 1,2 below). At Aestheticare we particularly like pairing the TriHex Technology with radiofrequency microneedling for better outcomes. Regenerating Nectar for the head and neck, Transform Body Treatment everywhere else.
Alastin
TransFORM
Body
---
Sunscreen
The most important element of our skin care regimen is a sunscreen, all year round. For decades we have known that it is important to block the short UVB rays which cause sunburning as well as longer wavelength UVA which clearly contribute to carcinogenesis and skin aging along with UVB.

Keep in mind that UVA penetrates glass, including car glass, such that suncreening all year round is recommended.

The best sunscreens for both UVA and UVB contain mineral based physical blocking agents such as titanium dioxide and zinc oxide.

More recently, we have recognized the contribution of HEV (high energy visible -i.e., indoor) light to skin aging as well as skin carcinogenesis. HEV indoor light also contributes to unwanted irregular skin pigmentation most often problematic in darker skin tones.

We have learned that the usual sunscreening agents for UVA and UVB offer insufficient blockage of visible light whereas iron oxide protects against this range efficiently. Iron oxide also imparts a skin tone tint to the newer better sunscreens.

Iron oxide tinted sunscreens are therefore the most effective.

We carry three, suitable for oily, normal and dry complexions. Colorescience powder with a brush is best for oily skin and the SkinBetter Tone Smart compact is a moisturing cream. Of our two lotion suncreens, Colorescience Flex lotion is more moisturing than Elta MD. Elta, however, has 5% niacinamide which is an excellent choice for acne prone skin. If you have combination skin (i.e., oily T-zone and dry elsewhere) you need combination treatment.

Keep in mind that sunscreen preference can vary. For example, someone with 'normal' skin may prefer the powder or more moisturizing compact.