What is Clear + Brilliant?
Clear + Brilliant is a rejuvenating fractional laser in the infrared diode class that is gentle, safe, non-surgical and non-invasive.
How does Clear + Brilliant rejuvenate?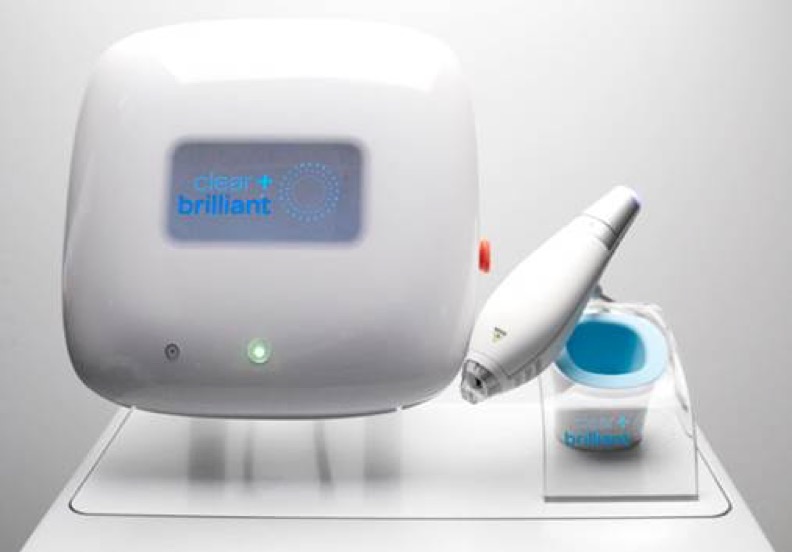 Controlled fractional lasering of the skin stimulates mid-skin collagen production as well as exfoliation of superficial sallow skin cells that have collected on the surface.  This gentle fractional lasering creates temporary micro-thermal zones that allow super-absorption of a potent anti-oxidant that we apply immediately after treatment.
A series of 6 sessions are recommended to visibly improve skin texture and tone. It is one of the few modalities that can minimize pore size. Most notably, skin is made luminous by Clear + Brilliant treatments.
Am I a good candidate for Clear + Brilliant?
Clear + Brilliant is most often done in patients that want more improvement in skin tone and texture than is offered by chemical peels and microdermabrasion but who are not ready for more invasive treatments that require hiding time afterwards.
It is also a good choice for those who want pore size reduction.
What areas are amenable to Clear + Brilliant?
The face is treated most often, including lines around the eyes, as well as neck.  One can also treat the chest, back, forearms and hands.
What can I expect during a procedure?
An Aestheticare nurse applies numbing cream for about 20 minutes so that the several passes of the laser beam can be tolerated comfortably. The fractional lasering takes approximately 30 minutes.
Is there any down time afterwards?
Significant pinkness is noted right afterwards, most of which resolves within a day. A few people see minimal puffiness along with the pink phase.
By the second day post treatment most people experience a fine sandpapery texture which precedes the desired exfoliation. This sandpaper phase can be greatly minimized by using a facecloth when washing. Dr. Lozinski does not recommend anything more abrasive than that.
How many treatments are recommended?
A series of 6 sessions about 2 weeks apart are recommended – ideally with maintenance treatments 2 to 4 times a year.  If desired, more frequent maintenance treatments are possible as well.
What results will I see?
A series of 6 treatments are recommended to achieve optimal outcome. Though results may vary, patients frequently report "younger looking skin" and a "radiant glow" after treatment. Clinical studies demonstrate:
Visibly illuminated skin tone
Renewed, ultra-soft and smoother texture
Naturally radiant and glowing skin
Improved tone, texture and radiance
Reduction in the appearance of pores
These factors add up to Clear + Brilliant skin.
Treatments that complement Clear + Brilliant (C+B)
Medical grade skin care products (including a high quality sunscreen) are recommended to maximize C + B results.
A non-ablative fractional laser like the 1440 nm, particularly at the higher 390 micron depth setting can be used to enhance penetration of molecules such as corticosteroids for hypertrophic (thick) scars and PLLA (Poly-L-Lactic Acid or Sulptra) for atrophic scars.