Volume Replacement
Juvederm Voluma Restylane Belotero Teoxane RHA
Synonyms - facial filler, volume replacement, filler substances, facial filler volumization, injection replacement, and SoftLift
Indications & Update
Dermal filler volumization has evolved considerably in recent years.  Rather that filling lines, advanced cosmetic medical practitioners have adopted a global 3 dimensional approach based on complicated principles of anatomic aging and overall facial volume balance.
We are replacing youthful volume that has been lost in all soft tissues of the face including skin as well as bone and address multiple levels of volume depletion.
Global facial volumization is done by more extensive use of fillers to replace volume that we have lost in the aging process. State of the art treatment volumizes the forehead, temples, over the cheekbones, under the eyes, throughout the cheeks, along the jawline below the mouth as well as lips. This all adds up to a more youthful but entirely natural appearance.
At Aestheticare, all dermal filler injection is done by Dr. Lozinski herself.  We only use safe temporary fillers in the hyaluronic acid family including Juvederm, Voluma, Restylane, Belotero and Teoxane RHA.  These fillers have different characteristics and are chosen for treatment of specific anatomic sites based on these properties. For example, important factors to consider are their ability to spread smoothly and lifting capacity.  Thin, very mature skin must be approached differently than thicker skin found in younger as well as male patients.  All of these are also taken into consideration when choosing a delivery device (needle vs. blunt tipped cannula vs. Aquagold microneedling with microchannels).
Before & After Gallery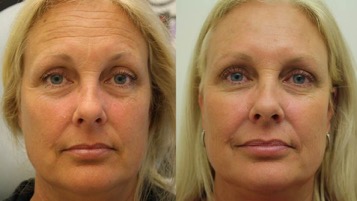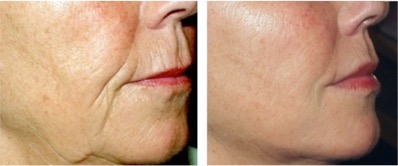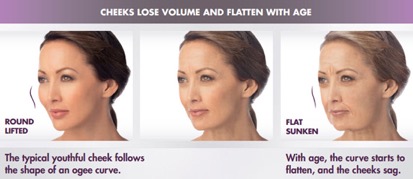 Collagen
Collagen was the gold standard filler substance for many years and a name many are familiar with. It is temporary and requires skin testing to rule out allergy (1-3% incidence). It has been replaced by better fillers.
Restylane
Restylane products are made from a synthetic hyaluronic acid (HA). A therapeutic version of hyaluronic acid has been used safely for years to cushion arthritic knee joints (Synvisc or hylan gel).
It is injected into the deeper layer of the skin and molds particularly well to smooth out moderate creases and augment lips. No prior skin testing is required. Hyaluronic acid fillers are temporary and require maintenance treatment, less often in the lateral less mobile areas of the face and more often around the mouth where the material dissipates faster in sites of greater movement.
Juvederm
This is also a synthetic hyaluronic acid, similar or longer than Restylane in duration. No skin testing is required.
Voluma
Voluma and other members of the 'Vycross family' such as Volux, Volift and Volbella are more highly cross-linked than other hyaluronic acid fillers and tend to degrade more slowly.
Belotero
Belotero is particularly suited for the thin skin around eyes where it blends in very smoothly and is known for not being associated with a bluish discolouration ("Tyndall effect").
Teoxane RHA
This is often the HA filler of choice in more mobile areas. It is available in varying densities that Dr. Lozinski will match to your needs.
Permanent fillers
Due to the potential for delayed reactions (even several years) after injection of permanent fillers, we no longer offer them at Aestheticare.
Is anesthetic required?
This procedure is made comfortable by the use of ice pre-injection and a concurrent massage by Aestheticare staff. Blunt-tipped instruments (cannulae) used in otherwise potentially sensitive areas make this more easily tolerated.
Is there any down time?
Bruising is possible (est. 10-20%) but the incidence is reduced when medications that can thin blood (such as aspirin, anti-inflammatory agents i.e., Advil, omega 3, fish oil supplements) are avoided for 2 weeks before treatment. We suggest that you plan your life in anticipation of bruising for 10 days just in case this happens.
How do I find out more?
To book a consultation phone 905.664.5850 or use our online Consultation Request Form.